ExactaMix Compounder
Mix with control and confidence.
Coming Soon - ExactaMix Pro Automated Compounder
The modern pharmacy faces ever-evolving compounding needs. Go forward with a steadfast ally. ExactaMix Pro is built on the same trusted ExactaMix system you've relied on for safety, accuracy, and flexibility, with new Pro features. Watch this video to learn more.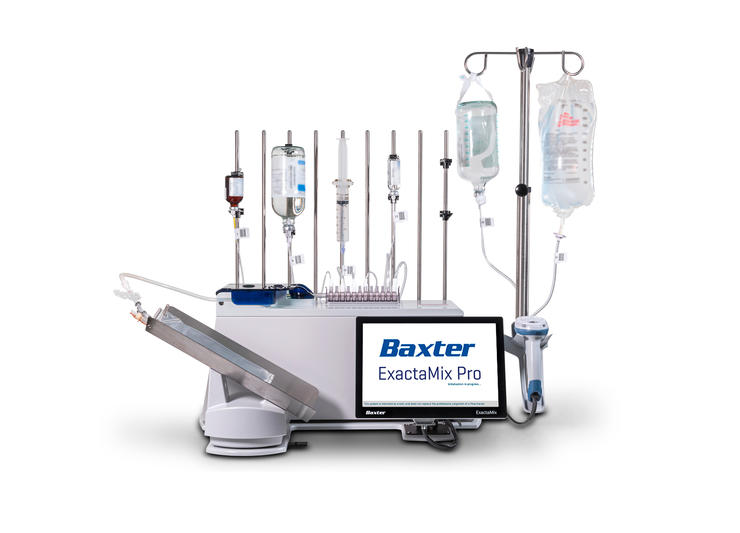 Go forward with a steadfast ally. It's time to go PRO.
ExactaMix Pro - Coming Soon
✓ Advanced cybersecurity means less worry about cyberattacks
✓ Quad-core processor to command with speed
✓ Capacitive touchscreen for immediate feedback
✓ 15-month data storage for more compounding insight
1,000+
hospital pharmacies and compounding centers use ExactaMix
35+
years of innovating parenteral nutrition (PN) compounding
>100 M
bags compounded with ExactaMix
Optimize Compounding with a Proven System
Broad Portfolio
We offer the largest PN offering in the marketplace and a broad portfolio of hardware, software, disposables, fluids, education, training and service.
Validated System
There are over 28 quality testing steps conducted for every ExactaMix manufactured. ExactaMix is designed with redundant controls for safety and accuracy – including air bubble and occlusion detectors.
Operational Integration
ExactaMix is a validated compounder that can interface with pharmacy information systems to receive TPN orders. It seamlessly integrates with Abacus Order Entry Calculation Software and DoseEdge TPN Pharmacy Workflow Manager.
True Micro and Macro Delivery
EM2400 With 24 ingredients ports, the EM2400 Compounder has the ability to help reduce the need for manual additions and automate the preparation of additional therapies, such as continuous renal replacement therapy (CRRT), cardioplegia and base solutions.
EM1200 The 12-ingredient configuration utilizes the same advanced technology as the prevalent EM2400 Compounder. The EM1200 Compounder may be an appropriate system for admixtures that require fewer ingredients or smaller facilities with distinct patient demographics.
Proven Expertise
You can be confident choosing Baxter due to our long history as an innovator of parenteral nutrition solutions and compounding devices. Baxter has translated years of experience to incorporate innovative solutions such as universal and Y-site ingredients into ExactaMix.
Service and Support
ExactaMix comes with: 24/7 technical and operational support by calling Toll Free: 1.800.678.2292, a proprietary training Microsite, certified installation team expertise at your service for training and education and Baxter's unmatched support teams of Medical Science Liaisons (MSL), ClinicaI Center of Excellence (CCOE), Nutrition Specialists, Technical experts and more.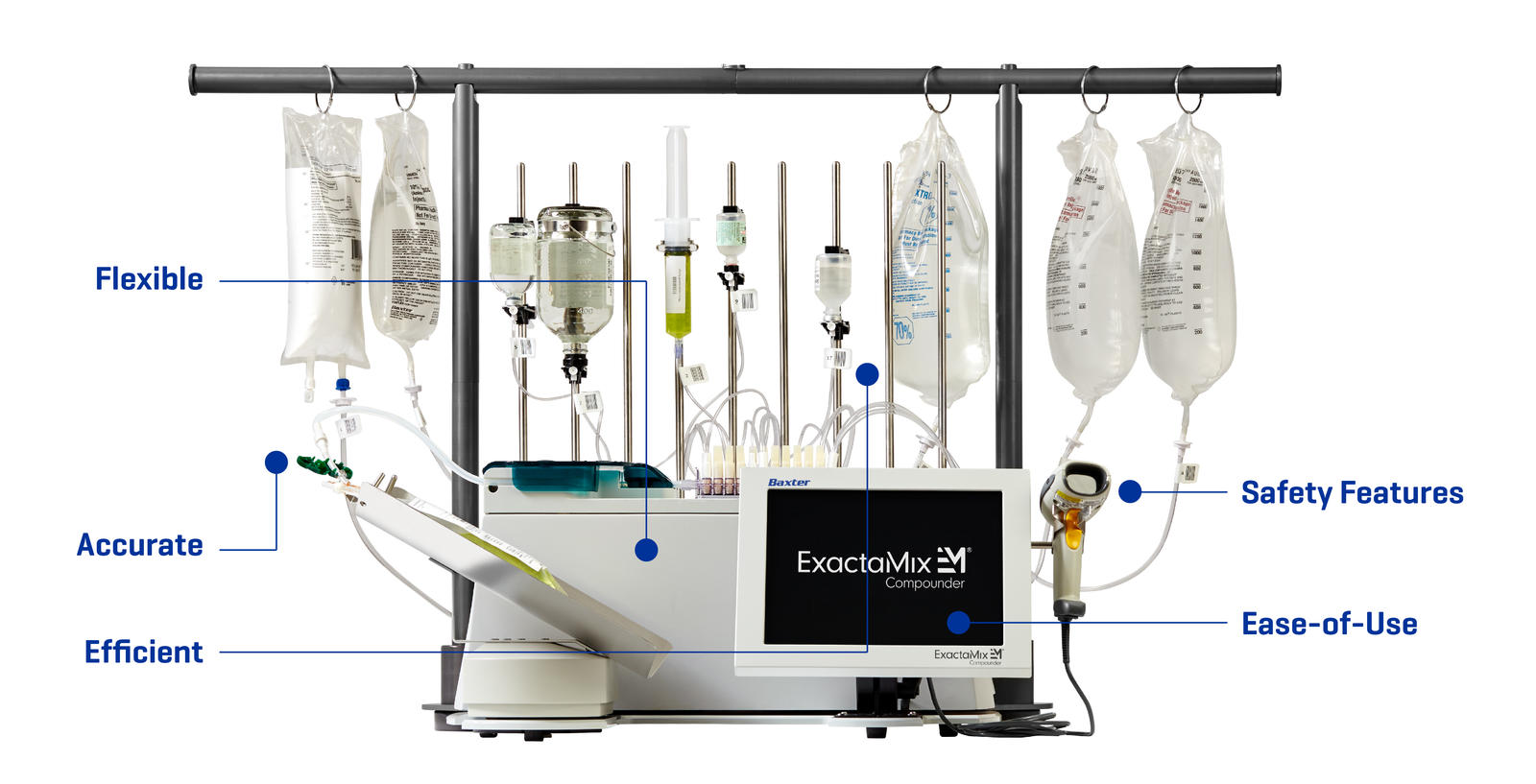 The ExactaMix Compounder Delivers Proven Performance
Proven Dose Calculation Abacus Software1
The system calculates the volume based on patient order, has user-defined warning limits and is able to configure calcium phosphate curves that helps to minimize the risk of calculation errors.
Proven Dose Management DoseEdge Pharmacy Workflow Manager
The system tracks compounds in process, provides remote dose inspection, keeps records and allows for manual additions.
Proven Integration ExactaMix Compounder Universal Connectivity
The compounder interfaces with pharmacy information systems to receive TPN orders2, which helps eliminate duplicate order entry and leverages existing systems and investment.
ExactaMix Training Microsite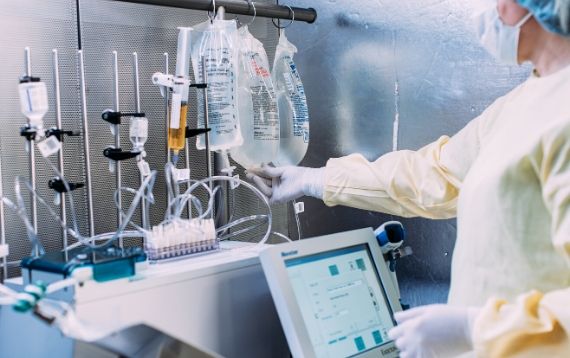 The ExactaMix training microsite contains over 35 videos to help you with using the ExactaMix Compounding System in your pharmacy.
These videos are intended to demonstrate the installation and use of the ExactaMix Automated Compounding System in the pharmacy and are provided for educational purposes only.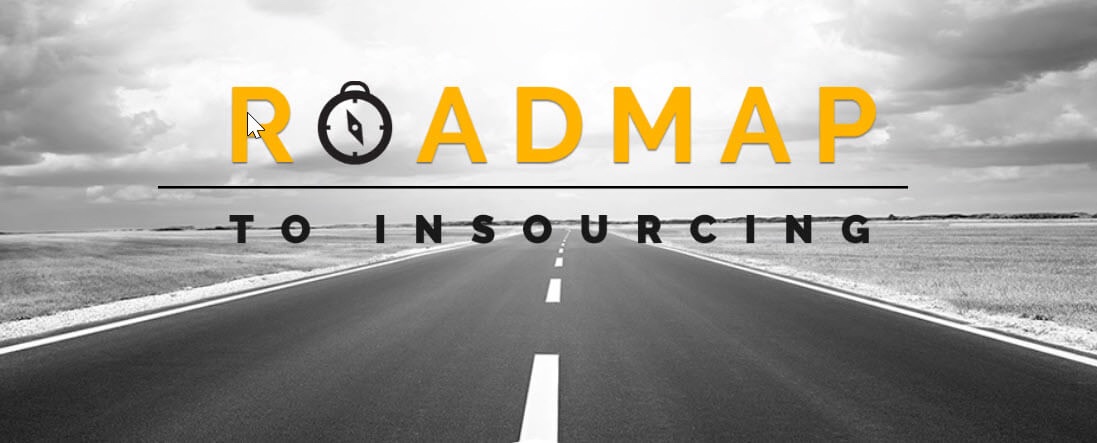 The Roadmap to lnsourcing
This ASHP Resource Center, sponsored by Baxter, provides tools that can be used to assist in the decision-making process and the implementation phase of insourcing sterile IV compounds.
Explore Our Related Products