Education
Baxter's commitment to advancing clinical nutrition extends beyond innovative products. We partner with nutrition thought leaders to offer on-demand education through programs such as iCAN, SMART PN, and Channel ONE. Our education is designed to help clinicians, hospital partners and compounding pharmacies measure, mix and nourish for effective clinical nutrition.
"Bingeworthy" Nutritional Education
Channel ONE (On-Demand Nutrition Education) webinars will keep you in-the-know and up-to-date on important topics in clinical nutrition practice:
● Nutrient-dense information: Case studies, publication reviews and scientific theory
● Content prepared fresh for you: New content added monthly.
● Bite-sized videos: Videos average 15 minutes.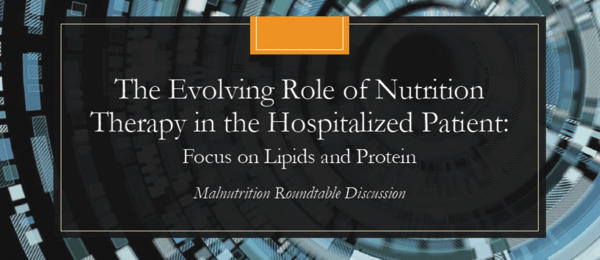 The Evolving Role of Nutrition Therapy in the Hospitalized Patient: Focus on Lipids and Protein
In this roundtable discussion, Canadian and U.S.-based faculty discuss diagnostic criteria for malnutrition, available and emerging lipid emulsion products and their influence on inflammation and ensuring adequate protein delivery for optimal nutrition support.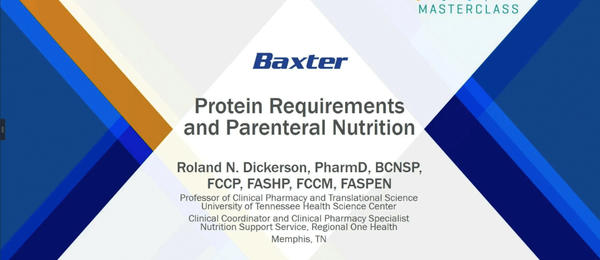 iCAN Masterclass: Protein Requirements and Parenteral Nutrition
In this 1-hour long webinar Roland N. Dickerson PharmD, BCNSP, FCCP, FASHP, FCCM, FASPEN will describe the evidence that support protein recommendations for adult hospitalized patients; the effects of age, obesity, continuous renal replacement therapy, and levels of catabolism upon protein requirements; and will develop a parenteral nutrition support regimen that meets protein requirements for a critically ill patient (case study).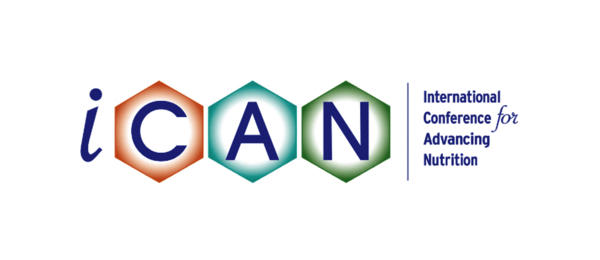 iCAN | International Conference for Advancing Nutrition
Join us for Baxter's 2021 iCAN virtual conferences, featuring key clinical nutrition experts. These Baxter-sponsored live and on-demand virtual events are designed specifically for healthcare professionals interested in learning more about the benefits of nutritional support. You can find iCAN on-demand videos on this page. For more information or to attend a live virtual event, please email [email protected].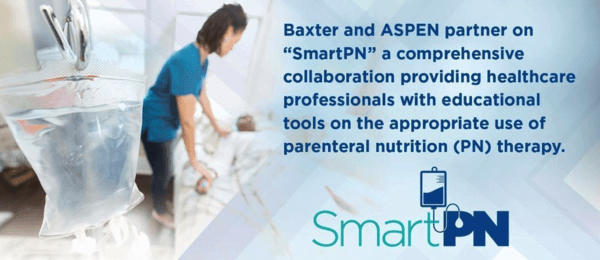 SmartPN Education Resources
During this four-part video series from ASPEN and Baxter on "SmartPN," you will gain new tools on the appropriate use of Parenteral Nutrition (PN) therapy. The topics covered are: Part I: PN  Appropriateness: The General Approach; Part II: The Role of Supplemental Parenteral Nutrition; Part III: Avoiding Overfeeding and Glucose Control Management and Part IV: Venous Catheter Selection, Care, and Complication Prevention.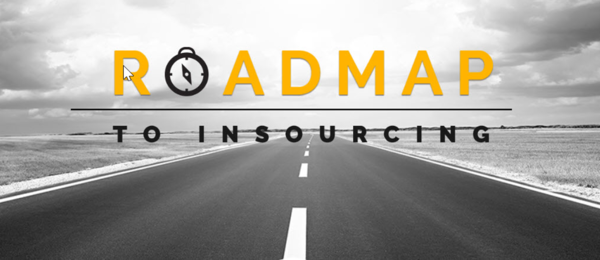 The Roadmap to Insourcing
This ASHP Resource Center, sponsored by Baxter, provides tools that can be used to assist in the decision-making process and the implementation phase of insourcing sterile IV compounds.