NEXTERONE (Amiodarone HCI) Premixed Injection
With NEXTERONE, there's no waiting, no admixing—and it may also reduce amiodarone waste.1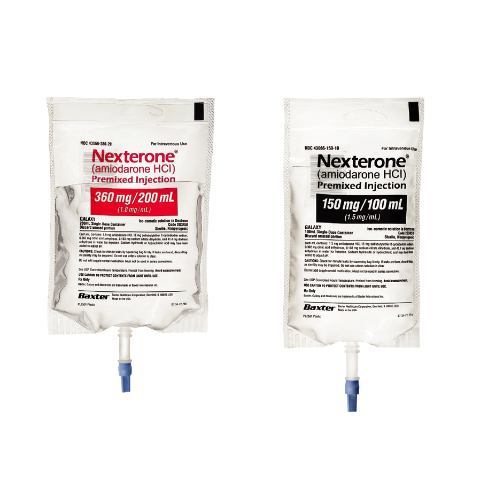 Indications
NEXTERONE (amiodarone HCl) Premixed Injection is indicated for initiation of treatment and prophylaxis of frequently recurring ventricular fibrillation (VF) and hemodynamically unstable ventricular tachycardia (VT) in patients refractory to other therapy.
Ready at a Moment's Notice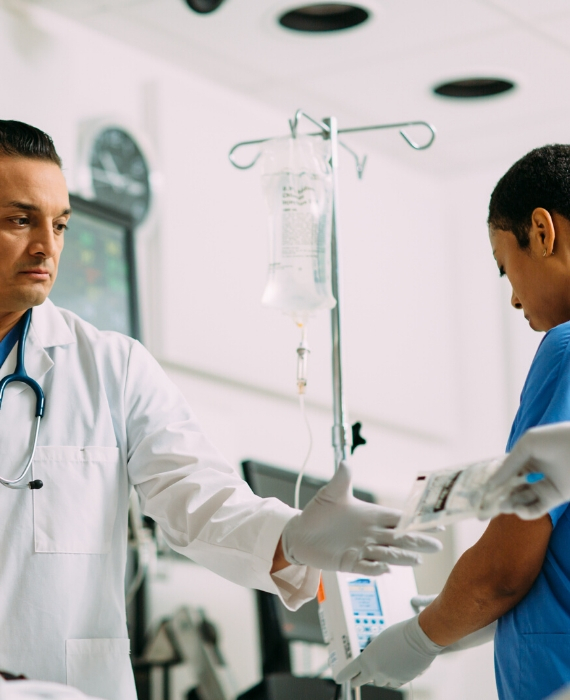 NEXTERONE provides a ready-to-use amiodarone in 
150 mg/100 mL and 360 mg/200 mL administration bags.  As a premix that is manufacturer prepared following cGMP, NEXTERONE provides an accurately prepared concentration to help minimize compounding errors that may occur in urgent situations2,3
Manufacturer-prepared premixed amiodarone
Ready to administer bags
Two-year shelf life
Extended storage at room temperature
Store in carton to protect from light until ready to use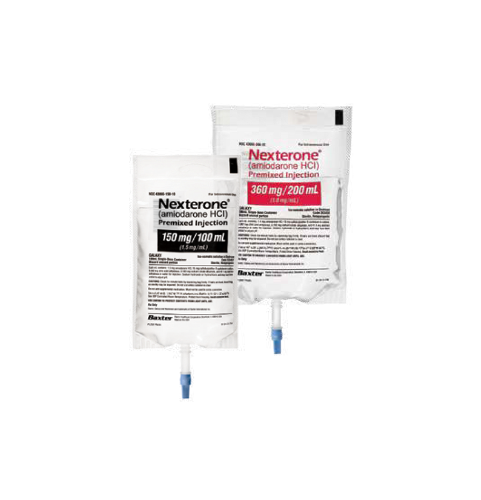 NEXTERONE offers healthcare professionals one less task to perform during stressful situations. Our manufacturer-prepared premix provides an accurately prepared concentration that helps minimize errors related to compounding.2,3 With NEXTERONE, there's no waiting, no admixing—and it may reduce amiodarone waste.1 Clinicians can just grab the bag for delivery at the point of care.
Emergency Department
Intensive Care Unit
Cardiology Department
Catheterization Laboratory
Long-Term Acute Care
Emergency Medical Services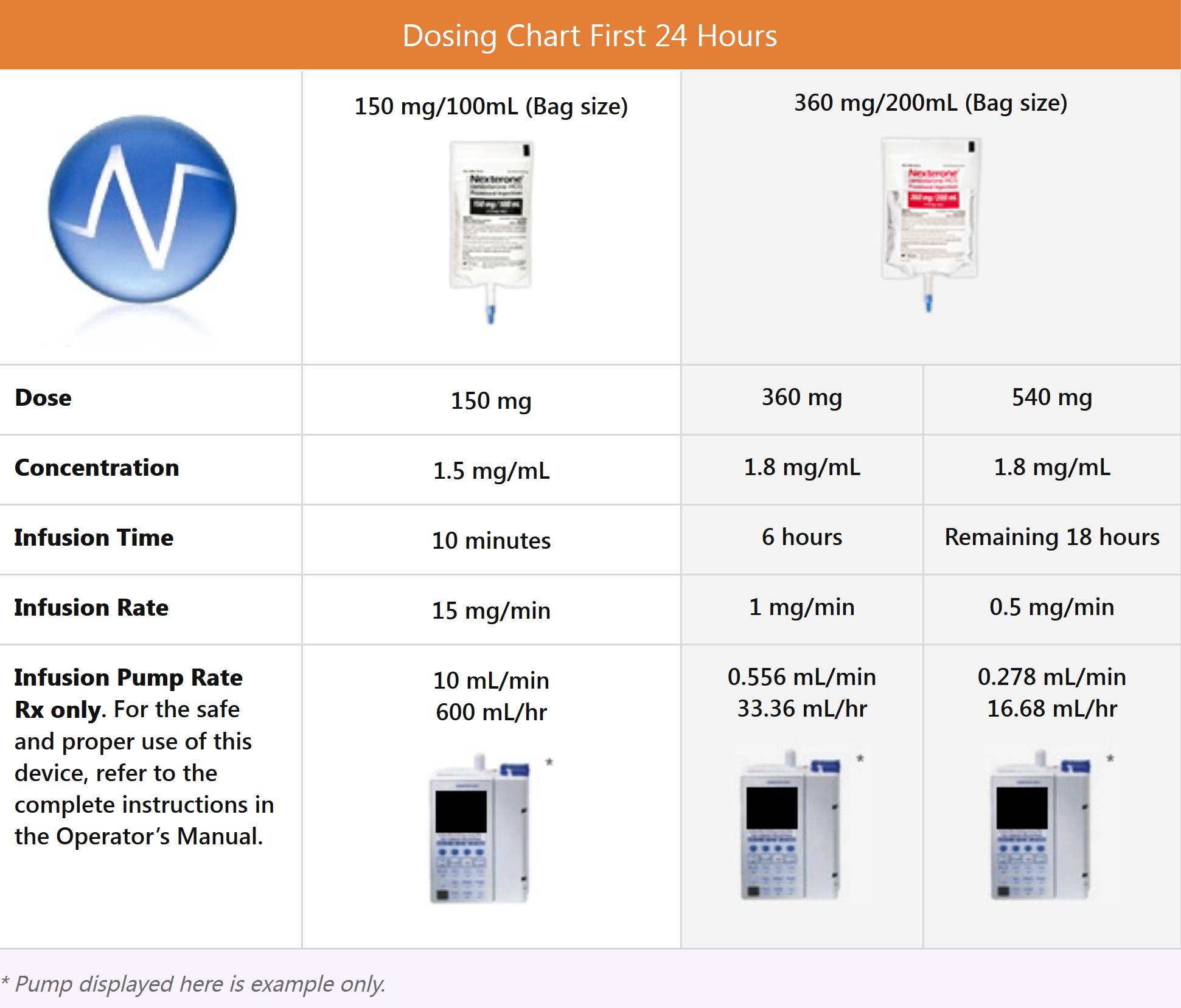 Dosing NEXTERONE (Amiodarone HCl)
NEXTERONE response can vary. Monitor patient response and adjust dose accordingly. In controlled clinical trials, mean daily doses above 2100 mg were associated with an increased risk of hypotension.
After the first 24 hours, continue the maintenance infusion 720 mg per 24 hour period (0.5 mg/min). Directly infuse NEXTERONE Premixed Injection (360 mg/200 mL; 1.8 mg/mL) at a rate of 0.278 mL/min.
In the event of breakthrough episodes of VF or hemodynamically unstable VT, use 150 mg supplemental infusion over 10 minutes (15 mg/min). Directly infuse NEXTERONE Premixed Injection (150 mg/100 mL; 1.5 mg/mL) at a rate of 10 mL/min.
Single-use only. Administer NEXTERONE, whenever possible, through a central venous catheter dedicated to that purpose. Use an in-line filter during administration.
Please see full NEXTERONE (amiodarone) Prescribing Information for dosage and administration.
Explore Our Related Products
NEXTERONE (amiodarone HCl) Premixed Injection
Indication and Important Risk Information
Indication
NEXTERONE is indicated for initiation of treatment and prophylaxis of frequently recurring ventricular fibrillation (VF) and hemodynamically unstable ventricular tachycardia (VT) in patients refractory to other therapy.
Important Risk Information
Contraindications
NEXTERONE is contraindicated in patients with:
Known hypersensitivity to any of the components of NEXTERONE, including iodine
Cardiogenic shock
Marked sinus bradycardia
Second- or third-degree atrioventricular (AV) block unless a functioning pacemaker is available
Warnings and Precautions
Persistence of Adverse Effects: Because of the long half-life of amiodarone (9 to 36 days) and its metabolite desethylamiodarone (9 to 30 days), adverse reactions or interactions, as well as observed adverse effects, can persist following amiodarone withdrawal.
Hypotension: Most often seen in the first several hours of treatment and likely related to the rate of infusion. In some cases, hypotension may be refractory and result in a fatal outcome.To treat: Slow the infusion; as needed, add vasopressor drugs, positive inotropic agents, and volume expansion.
Bradycardia and Atrioventricular Block: May require slowing the infusion rate or discontinuing NEXTERONE. In some patients, inserting a pacemaker is required. Have a temporary pacemaker available when treating a patient predisposed to bradycardia or AV block.
Hepatic Injury: Acute hepatocellular necrosis leading to hepatic coma, acute renal failure, and death has been associated. Intravenous infusions at much higher concentrations and rates of infusion than those recommended appear to increase this risk. Carefully monitor patients receiving NEXTERONE for evidence of progressive hepatic injury. Consider reducing the rate of administration or withdrawing NEXTERONE if hepatic injury occurs.
Proarrhythmia: NEXTERONE may cause a worsening of existing arrhythmias or precipitate a new arrhythmia, sometimes leading to fatal outcomes. Proarrhythmia, primarily torsade de pointes (TdP), has been associated with prolongation by intravenous amiodarone. Monitor patients for QTc prolongation during infusion with NEXTERONE. Reserve the combination of amiodarone with other antiarrhythmic therapies that prolong the QTc to patients with life-threatening ventricular arrhythmias who are incompletely responsive to a single agent. Correct hypokalemia, hypomagnesemia or hypocalcemia whenever possible before initiating treatment with NEXTERONE.
Pulmonary Injury: There have been post-marketing reports of acute-onset (days to weeks) pulmonary injury. Some cases have progressed to respiratory failure or death. Monitor for new respiratory symptoms and evaluate appropriately. Obtain a baseline chest X-ray and pulmonary function tests in patients who are expected to be receiving amiodarone chronically.
Loss of Vision: Cases of optic neuropathy and optic neuritis, usually resulting in visual impairment, have been reported. In some cases, visual impairment has progressed to permanent blindness. Optic neuropathy and neuritis may occur at any time following initiation of therapy. Perform an ophthalmic examination if symptoms of visual impairment appear. Reevaluate the necessity of amiodarone therapy if optic neuropathy or neuritis is suspected.
Thyroid Abnormalities: NEXTERONE inhibits peripheral conversion of thyroxine (T4) to triiodothyronine (T3) and may cause increased T3 levels, and increased levels of inactive reverse T3 (rT3) in clinically euthyroid patients. Monitor thyroid function prior to treatment and periodically thereafter, particularly in elderly patients, and in any patient with a history of thyroid nodules, goiter, or other thyroid dysfunction. Hyperthyroidism may induce arrhythmia breakthrough. If any new signs of arrhythmia appear, the possibility of hyperthyroidism should be considered.
Neonatal Injury: Amiodarone can cause fetal harm when administered to a pregnant woman. Fetal exposure may increase the potential for adverse experiences including cardiac, thyroid, neurodevelopmental, neurological and growth effects in neonate. Inform the patient of the potential hazard to the fetus if NEXTERONE is administered during pregnancy or if the patient becomes pregnant while taking NEXTERONE.
Hypersensitivity Reactions: Anaphylactic/anaphylactoid reactions have been reported including shock (sometimes fatal), cardiac arrest, and the following manifestations: hypotension, tachycardia, hypoxia, cyanosis, rash, Stevens-Johnson syndrome, flushing, hyperhidrosis and cold sweat.
Adverse Reactions: The most common adverse reactions (1-2%) leading to discontinuation of intravenous amiodarone therapy are hypotension, asystole/cardiac arrest/pulseless electrical activity, VT, and cardiogenic shock. Other important adverse reactions are torsade de pointes, congestive heart failure, and liver function test abnormalities.
Drug Interactions: Amiodarone is a substrate for CYP3A and CYP2C8, so inhibitors and inducers affect amiodarone exposure. Amiodarone inhibits p-glycoprotein and CYP1A2, CYP2C9, CYP2D6, and CYP3A, increasing exposure to other drugs.
Click here for accompanying full Prescribing Information.
INDICATIONS FOR USE
The Spectrum IQ Infusion System with Dose IQ Safety Software is intended to be used for the controlled administration of fluids. These may include pharmaceutical drugs, blood, blood products. The intended routes of administration consist of the following clinically accepted routes: intravenous, arterial, subcutaneous or epidural. The Spectrum IQ Infusion System with Dose IQ Safety Software is intended to be used in conjunction with legally marketed and compatible intravenous administration sets and medications provided by the user.
The Spectrum IQ Infusion System with Dose IQ Safety Software is suitable for a variety of patient care environments such as, but not limited to, hospitals and outpatient care areas.
Rx only. For safe and proper use of these devices, please refer to instructions for use or appropriate operator's manual.