Novum IQ Infusion Platform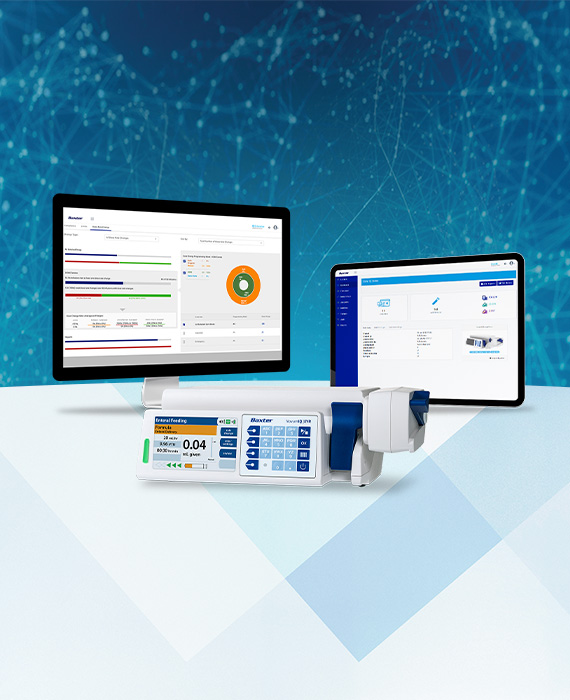 The Next Generation of Infusion Pumps Isn't Just a Pump
The Novum IQ Infusion Platform is an integrated, intelligent infusion ecosystem designed to support complex infusion practices for your patients. Bringing together the Novum IQ Syringe Pump, the IQ Enterprise Connectivity Suite and Dose IQ Safety Software, the Novum IQ Infusion Platform is transforming infusion delivery. Baxter's "one platform" ecosystem is designed to enhance infusion safety, streamline infusion administration and enable the continuous evolution of infusion technology.
Infusion Therapy Innovation Is Urgently Needed
Smart infusion pumps are widely regarded as the standard of care in infusion delivery. However, many infusion errors continue to occur despite their use.1
1.2M
hospitalizations per year are estimated to include preventable injectable medication adverse events2
61%
of serious and life-threatening medication errors are associated with IV infusions3
85%
of all medication errors reach the patient when an infusion pump is used for medication delivery, according to one study4
Revolutionizing Infusion Delivery
You can benefit from an elevated infusion experience with an infusion ecosystem optimized for integration. The Novum IQ Syringe Pump helps protect even the smallest, most vulnerable patients and supports standardized infusion administration.
Streamlined workflows and intuitive operation drive compliance in the use of pump safety software, helping to ensure a safe continuum of care for patients.
Easy-to-use interface supported by 350+ hours of human factors testing.5
On-screen barcodes with scan prompts help provide safety and efficiency during auto-programming by ensuring that pumps are correctly identified. 
Stackable design keeps multiple pumps organized and simplifies care.
A visual beacon enables clinicians to see from a distance that a pump needs attention.
A backlit keypad and an ambient light sensor improve visibility.
A robust portfolio of administration sets is designed to deliver consistent accuracy with the Novum IQ Syringe Pump.
The IQ Enterprise Connectivity Suite:
Enterprise Intelligence at the Center of Patient Care
The IQ Enterprise Connectivity Suite helps you optimize infusion administration practices and enhance infusion safety with full interoperability and data visualization.
Enterprise Scalability
Supports the size and unique structure of your organization — from the smallest hospital to the largest health system
Actionable Analytics
Delivers meaningful infusion analytics driven by intuitive data visualization and consolidation of data and reports
Innovative Interoperability
Enables interoperability with your EMR and other hospital information systems upon full system integration
Over-the-Air Connectivity
Automatically updates the drug library and pump platform firmware without ever having to take pumps off the floor
Rigorous Cybersecurity
Meets rigorous cybersecurity certification to provide ongoing protection for infusion data 
Future Innovation
Provides the architecture to accommodate future medication management innovations
Dose IQ Safety Software for the Novum IQ Syringe Pump: Advancing Medication Safety
and Helping to Reduce Preventable Errors
Web-based Dose IQ Safety Software for the Novum IQ Syringe Pump helps you protect more infusions and reduce the risk of patient harm with advanced drug library and dose error reduction features.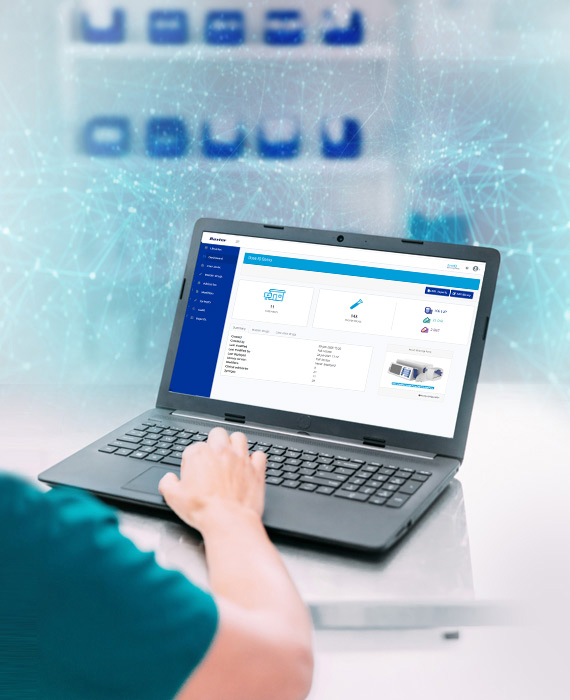 Drug Library Powered by Web-Based Dose IQ Safety Software
At every step, web-based, intuitive Dose IQ Safety Software for the Novum IQ Syringe Pump helps you easily build and deploy one of the most effective drug libraries possible. Users follow a step-by-step, guided approach with prompts to complete the build. Enabled by the IQ Enterprise Connectivity Suite, the centralized drug library is wirelessly deployed and updated across the enterprise health system – with no pump power cycling required.
Only Baxter infusion platforms with Dose IQ Safety Software deliver 97% drug library compliance within one month of implementation,6 meeting the Institute for Safe Medication Practices (ISMP) recommended goal of 95% or greater7 and exceeding the 84% industry average8 by 13 percentage points.
Dose IQ Safety Software for the Novum IQ Syringe Pump provides flexible software accessibility options through installation on a hospital-owned virtual machine or through a Baxter-hosted cloud-based solution.
Advanced Safety Capabilities with Dose IQ Safety Software for the Novum IQ Syringe Pump
Dose IQ Safety Software for the Novum IQ Syringe Pump offers unique and best-practice capabilities to help you strengthen infusion safety. 
Color-Coded Enteral Infusions
Helps ensure accurate and safe medication delivery through colored visual banners on the screen to clearly identify enteral delivery.
Comprehensive Dosing Units
of Measure
Incorporates comprehensive units of measure, including MillionUnit dosing
Passcode-Protected Anesthesia Profile
Includes configurable Anesthesia Care Area settings to enable efficient initiation of a loading dose, continuous infusion or bolus, without sacrificing safety
Titration Error Prevention Technology
Intercepts dose changes that could be potentially harmful
Robust Drug Library Capacity
With 32 care areas and 5,000+ drug entries, utilizes a unique drug-linking feature to count a drug as one unique entry, even when used across multiple care areas
First Databank Partnership
Enables standardized drug library creation in partnership with First Databank (FDB) and incorporation of its FDB Infusion Knowledge database
Maximizing Your Investment
Your facility's investment in the Novum IQ Infusion Platform is maximized with the platform's breakthrough design innovations, coupled with unparalleled product implementation and software support and maintenance. The leading-edge platform design — with 95% field serviceability — potentially reduces cost and downtime.
Modular Design
Streamlines service and maintenance with cost-effective field-replaceable units
Full System Self-Test at
Start-up
Checks system status and provides error or abnormal codes for easier diagnosis and repair
Remote Troubleshooting & Diagnostics
Combined with parts ordering, helps reduce maintenance burden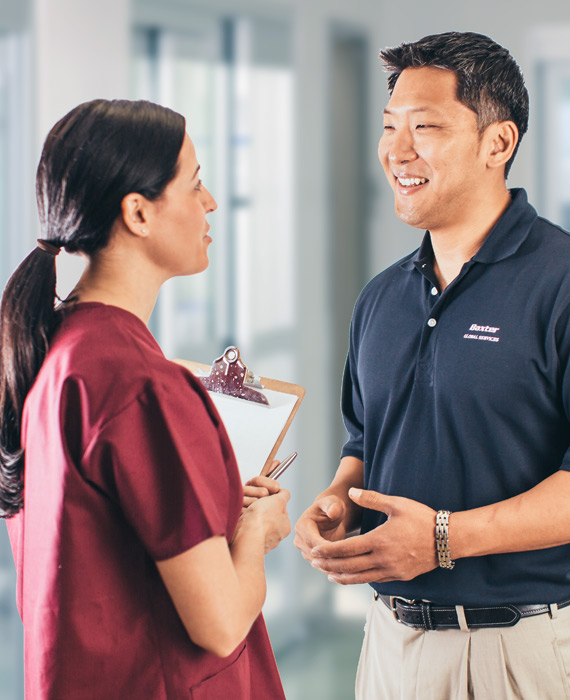 Unmatched Product Implementation and Software Support and Maintenance
The benefits of acquiring the Novum IQ Infusion Platform extend well beyond the bedside.
A Baxter-led Universal Implementation Process (UIP) engages all facility stakeholders and spans pre-implementation planning, drug library build, product training and post-implementation follow-up.
The Novum IQ Infusion Platform with PartnerAdvantage Services program focuses on software support and maintenance and offers training and support resources for your staff, including IT personnel, biomedical engineers, clinicians and pharmacists. Facilities can tailor a package of services to accommodate integrated or nonintegrated systems.
Indications for Use — Novum IQ Syringe Pump
The Novum IQ syringe pump is intended to be used for the controlled administration of fluids. These include pharmaceutical drugs, parenteral nutrition, blood and blood products, and enteral nutrition. The Novum IQ syringe pump is intended to deliver an infusion through the following clinically accepted routes of administration: intravenous, arterial, enteral, and subcutaneous. The Novum IQ syringe pump is intended to be used in conjunction with legally marketed and compatible administration sets, syringes, and medications provided by the user. The Novum IQ syringe pump is suitable for patient care in hospitals and outpatient health care facilities. The Novum IQ syringe pump is intended for use on adults, pediatrics and neonates. The
Novum IQ syringe pump is intended to aid in the reduction of operator interaction through guided programming, including a way to automate the programming of infusion parameters and documentation of infusion therapies when integrated with an Electronic Medical Record (EMR) system. This automation is intended to aid in the reduction of programming errors. The Novum IQ syringe pump is intended to be used by trained healthcare professionals.
RX only. For safe and proper use of the products mentioned herein, please refer to the appropriate Operator's Manual or Instructions for Use.